Inspirations ...
Grass Routes draws inspiration from the everyday extraordinary people we meet, the enduring natural landscapes we encounter and the thriving traditional cultures that have enriched our lives. Listed below are just some of the wonderful people, places and cultures you're likely to discover on a Grass Routes journey.
Culture - Art as Life
Grass Routes celebrates ancient, living traditions that miraculously continue to thrive. We seek out the source of a community's culture to understand its context and value, and share it with our travellers. Art and craft is a traditional form of cultural expression in Orissa. Maintained over centuries, at times unchanged, other times evolving, it forms the fabric of many lives. We meet the people behind the products and discover what it means to paint mythology, drum primal rhythms and weave symbolic stories.

Sun Temple at Konark Bathed in the rays of the rising sun, the UNESCO World Heritage Site at Konark is a monumental representation of the Sun God (Surya)'s chariot. Just as the sun measures time, the chariots 12 wheels (each 10 feet high) mark the monthly cycle of each year, each wheel has 16 spokes that work as giant sun-dials measuring the hours of daylight in each day and the 7 horses that draw the chariot symbolize the 7 days in a week. Built in the 13th century by King Narasimhadeva of the Ganga dynasty, the Sun temple (also known as the Black Pagoda) is also a salute to procreation and fertility and has a plethora of erotic sculpture adorning its walls. Check out our Beach Camp at Konark.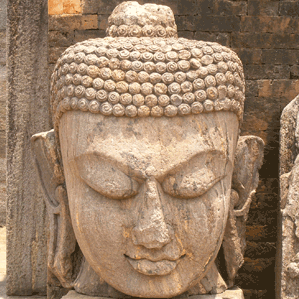 Buddhism has deep roots in Odisha. Most significantly it was here that Emperor Ashoka was struck with great remorse from the devastation of the Kalinga war. Converting to Buddhism, Ashoka decreed peace among all peoples and spread Buddhism throughout his Empire (which stretched to present day Iran) and beyond to South East Asia. Furthermore the esoteric and ritualistic Vajrayana Buddhism is believed to have developed in Odisha. Explore Buddhist Heritage in Odisha in our Culture & Nature Journey.

Patachitra is traditional painting on cloth carried out by a dynasty of painters depicting religious scenes from local legends and Hindu epics. Organic vegetables and minerals are crushed, boiled and filtered to obtain bright natural colours. The cloth is treated before brought to life in the evocative miniature painting style. Despite faded patronage artists proudly maintain their valuable tradition and technique. Check out our Bicycle Tour to the hertiage village where it all began.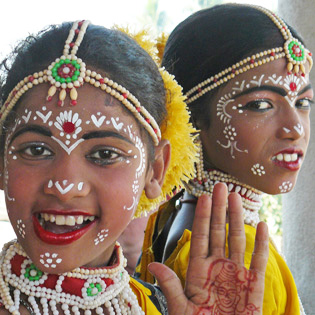 Dance has a rich tradition in Odisha stretching back more than 2000 years. Odissi is the classical dance form of India and was initially performed in temples as a religious offering. The three schools of classical dance are Mahari, Nartaki and Gotipua. Odissi was suppressed under the British Raj, but has been reconstructed since independence. Odissi bares the closest resemblance to temple scultpure than any other dance form in India.

Textiles Odisha has a depth of weaving practices and techniques unparalleled in other parts of India. Most significant is Ikat; a style of weaving that uses a resist dyeing process. Double Ikat is an extremely difficult process whereby both the warp and the weft are tie-dyed before weaving. The pattern is revealed in the weaving process but set during the dying stage. Extremely difficult to master! The complex skills and time involved in weaving a double ikati sari ensures a unique gift.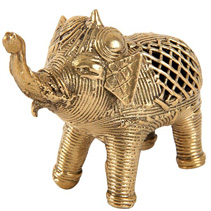 Brass and Bell Metal Brass bells and other items of ritual worship are symbols of tradition. A Hindu bride receives a set of brass cooking utensils in her trousseau. The copper and zinc alloy are of medicial value and are tied up with notions of purity. Bell metal products; a mix of copper and tin are finished through beating and casting. Dhokra; the ancient technique of lost-wax casting is still practiced in Odisha.

Festivals are a fantastic way to participate and experience local cultures – and have the time of your life doing so! Full moons, harvest cycles and religious festivals are all celebrated with gusto. We do our best to schedule journeys to coincide with fascinating cultural celebrations. If there is a specifc festival you had in mind do let us know. Odisha's most celebrated festival is the annual Rath Yatra in Puri. Take a look at our festival of faith journey.
Grass Routes | Orissa Tour | Tribal Tour | Puri | Responsible Travel | Sustainable Travel