Inspirations ...
Grass Routes draws inspiration from the everyday extraordinary people we meet, the enduring natural landscapes we encounter and the thriving traditional cultures that have enriched our lives. Listed below are just some of the wonderful places you're likely to discover on a Grass Routes journey.
Nature - At its Best
We are drawn to exceptional natural environments. Traversing Asia's largest estuarine lagoon, the World's second largest mangrove forest and the remote hills of the Eastern Ghats, Grass Routes taps into remote places of outstanding natural beauty.

Bhitarkanika National Park Is the second largest mangrove forest in the world (the Sundarbans at top billing) and a Ramsar Wetland of International Importance. Bhitarkanika (literally extraordinarily beautiful interior) extends over 800 square km; a tangled web of forest covers half, the other a vast and complex network of estuarine waterways. The park is home to over 215 species of birds including winter migrants from Central Asia and Europe and a diverse range of wildlife, most notably the elusive saltwater crocodile and fragile Olive Ridley turtles. The majestic mangroves are best navigated by boat – be sure to keep your hand out of the waters!
Best Season: Winter (Nov – Feb) is the most comfortable period with average temperatures from 15°C to 25°C. The area is prone to fluctuating tides during the beginning of summer and winter. In monsoon the area is transforms into an astonishing waterscape.

Chilika Lake Asia's largest estuarine water lagoon covers an area of 1100 sq km. with aunique combination of salt and fresh water. Studded with small islands, the lake is separated from the Bay of Bengal by a narrow sandy ridge. Recognised as a Ramsar Wetland of International Importance for its biodiversity, Chilika Lake attracts an impressive array of bird life, with over a million migratory waterfowl and shorebirds spending the winter here. It is also home to a diverse range of aquatic life, including 225 species of fish and the playful Irrawady dolphin. Most of all it's the wide-open spaces and silence we enjoy. Not to mention magnificent sunsets!
Best Season: For bird-lovers, Chilika is best visited in winter (Nov – Feb) when the migratory populations wing in from places as far as Siberia.

Eastern Ghats Along India's eastern coast, parallel to the Bay of Bengal, the Eastern Ghats mountain range stretch from West Bengal in the north, through Odisha and Andhra Pradesh to Tamil Nadu in the south. The Eastern Ghats are older than the Western Ghats. The region boasts extremely fertile soil rich in precious minerals and a complex geologic history, related to the assembly of Gondwana. In Odisha the Eastern Ghats reach their greatest height along the border with Andhra Pradesh. Thereafter eroded and cut through by the almighty Mahanadi River, the Ghats plateau into the surrounding plains.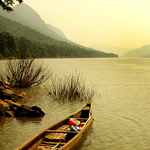 Satkosia Gorge & Wildlife Sanctuary One of the most picturesque santuaries in Odisha. The almightly River Mahanadi (literally 'great river') cuts across the rolling Eastern Ghats form a magnificant 22 km long gorge. Satkosia sanctuary spans 800 sq.km of deciduous forest and peninsular sal. It hosts a Gharial Research and Conservation Unit and is home to the tiger, leopard, elephant, gaur, sambar, spotted deer, antelope and numerous resident birds.
Best Season: (Nov – Jan) Spring (Feb – Apr) is magic with flowers in bloom and birds busy nesting. Winters are cool with temperatures dropping as low as 10°C in some parts.

Nature & Indigenous Communities
Nature is sacred and revered as divine in the indigenous cultures of Odisha. Nature plays an integral role in their daily life and forms the fabric of folklore and consciousness. Their inherent understanding of nature allows for regeneration and protection of valuable species of flora and fauna. They have been practising sustainable conservations for centuries!
Grass Routes | Orissa Tour | Tribal Tour | Puri  | Responsible Travel | Sustainable Travel